Couldn't spend time in Ireland without discussing/purchasing something tweed. I have seen older gentlemen smartly dressed in tweed jackets or caps, although they're rare in the strip clubs I've frequented, but it's a fabric so associated with Ireland and the surrounding islands that it felt a very fitting type of a souvenir to seek out. I'm not the type of guy that buys chotchkies in souvenir shops. You know, that crap that says things like, "Only in Vegas!" or, "I'm not Irish but I'd like to get lucky!" I'm not into that crap. A good souvenir should (ideally) be made in the place you're visiting, but should also be symbolic and representative of your trip and who you are. Granted, this is all just my opinion, but I'm way more into the idea of owning an Irish tweed than I am in owning a shot glass that says, "Limerick, Ireland." I mean, you can buy that shit online anywhere.
I feel the need.....the need for tweed.
Even Wooster knows the benefits of a good tweed.
Tweed is a twilled wool that can come in a variety of patterns. I feel like herringbone is most common/popular, but I've also seen houndstooth and windowpane. The history of tweed is kind of interesting, and you're free to look it up on Wikipedia if you want. It gets a bit of a bad rap as a stereotypical "old man's fabric," but I like the idea of owning a unique tweed piece. The rough texture sets itself apart by its look and feel, adding visual and textual interest to an outfit. Plus it's warm, water-resistant, and durable, which makes it a useful fabric. Versatility can be found not just in a piece's styling/color, but also in its uses and function. Tweed is great for the shite weather common to Ireland, Scotland, etc.
tweed woven in a herringbone twill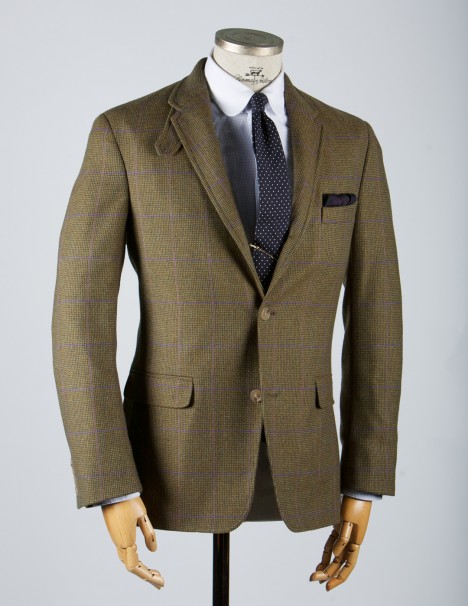 A faint windowpane can be done nicely. Too bold veers into car salesman....or this guy...
I looked up recommend places to buy tweed while in Ireland and came across Magee of Donegal, and Kevin & Howlin (which sells Donegal tweeds) of Dublin. Magee has a shop in Dublin, so while I'm there I plan to check out both stores (be on the lookout for a corresponding post with pictures). Of course there are many places to purchase tweed while in Ireland, but I liked the idea that these stores come recommended and have a solid history in the industry (Kevin & Howlin opened in Dublin in 1936). Again, you could easily pick up some crap at the airport on your way out, but it's more enriching to immerse yourself in the culture. Shop where the locals shop, buy what they'd buy. That's my suggestion at least.
More news as this one develops,