If summer means anything, chances are you'll find yourself near a pool/river/lake/ocean at some point in the coming months. Now I love frolicking in the water as much as the next guy, but your sartorial choices are even more important in regards to swimwear, considering it's likely the only thing you'll have on.
Let's start with a breakdown of the basic options. First, there's the brief:
Completely unnecessary unless you're an athletic swimmer engaged in competition (and even then, it's still kind of unnecessary). Wear these if you want to draw attention to yourself in the wrong way.
Speedo- the original banana-hammock
Second, there's the boardshort. The boardshort is roomier version of the conventional swim trunk described below. Built from surfing origins, the length and cut allow more mobility.
A classic O'Neill boardshort from Nordstrom, which I do not recommend
This style is currently popular among many immature males in age ranges from 15-35. Don't believe me? Watch an episode of "Jersey Shore," or head to South Padre Island on spring break. Boardshorts on a man are a bright warning flag, signaling a sharp turn away from maturity. It says to me, "I pride myself on my beer-bong-making abilities." Long, past-the-knee boardshorts are perfectly acceptable for young kids in their early teens. They should be relegated to this age bracket.
I can drink like, a case an hour, bro.
Guys, I get it if you think boardshorts make you look young, cool, or hip. In truth they don't. If you rock gelled hair, tattoos, and boardshorts to the beach, you need to get a haircut and grow the fuck up.
"The length and fit of shorts reveal a good deal about the true or desired age of the wearer."- Bernard Roetzel. A shorter-cut swimsuit will look better on you than its baggy counterpart. J.Crew offers some 7" boardshort options from $50-70, as does Brooks Brothers.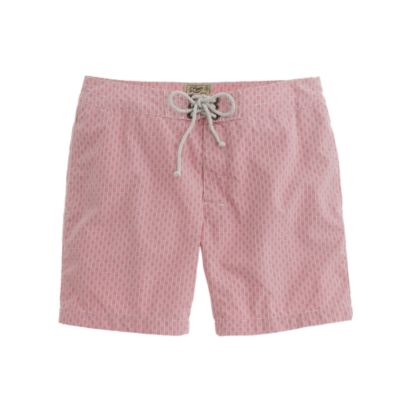 7" boardshort in basket weave by J.Crew- $70
Finally, there's the traditional swim trunk. Cut above the knee, they lack some of the mobility boardshorts offer because of their slim proportions. A well-fitting swim trunk shows off some thigh (you came to get at least a little sun, right?), but more importantly, works almost as well as a pair of traditional shorts. If you're looking to upgrade your swimsuit this summer, look for something that looks as good on its own as it does under a pique polo or oxford cloth button-down. That way, you can go from beach to the bar without having to change.
More news as it develops, and don't forget your sunscreen,