It's that time of year where websites start offering holiday gift-giving guides. And I know most websites do a pretty thorough listing of quality and thoughtful items to give to your loved one, but as it stands, I'm in the midst of finals, I'm pretty sure I just failed my last one, and the only thing on my mind right now is getting super drunk and pouring Cristale on white bitches' heads. So I apologize in advance for my unkempt gift list. I'll be adding stuff as it see find it, and hopefully it'll inspire you.
These New Balance 996s have the classic aesthetic of the 574, but in a slimmer profile.
The duffels from Herschel Supply Co. come highly regarded, but they've got backpacks, totes, ipouches, and more.
I've been obsessed with the Porthole since I saw it on Kickstarter. Making your own flavored liquors is a fun DIY project to mess around and get drunk with, but you can use the Porthole to make olive oil and balsamic vinegar and shit.
Colored laces - totally copped this idea from GQ, but it's a great and extremely simple idea.
Camo NATO straps - camo is shitting on #menswear right now, whether I like it or not. Swap in a new strap to ring in the new year.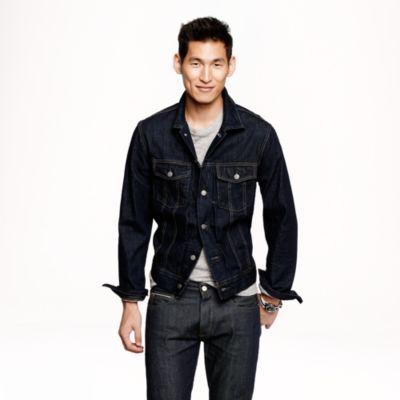 Denim jackets are so trill. I've got a vintage Levi trucker, but this dark one by J.Crew is pretty rad.
$136 and you can pretend you're Irish. It's like a year-round St. Patrick's celebration!
If you're going to ask for a watch, don't be a dipshit about it. Rolex watches in colorful swatches! The vintage watch collection at Park & Bond whets my whistle, although they occasionally are on "sale" at Gilt for pretty much the same price.
Man jewelry is a good thing to ask for, because if you don't like it, you can regift it to a girl. Really, if you don't know what to get someone, get them a sexually ambiguous, muted, non-threatening gift that everyone can use, but no one really desires.
I like quilted jackets, and they have them at Halls. Kind of a fall look more so than winter or spring, so you might grab one on the cheap.
These boots are just sick. $745 at Tres Bien but SKKKKKRRRRTTTTT $293 at Park & Bond.
You can always donate to a charity, and this is a great idea for people who never "want anything." Take what you would've spent on the grumpy-assed curmudgeon and give it to someone in need. StyleForum is having frequent auctions on great #menswear stuff, with 100% of the proceeds going to Ronald McDonald House.
Best, and hopefully more "quality" stuff on the way when finals end,